Manufacturing Overview
W H O GMP certified Tablets, Capsules, Liquid Orals, Non-sterile Ointments department with huge production capacity.
Separate provision of about 8000 sq.ft area dedicated only for the orderly storage of Packing material.
In-house testing facilities (Quality Control/ Quality Assurance dept) and Product Development Cell to carry out R&D for new/ potential products.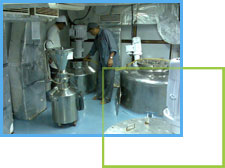 Infrastructure
State-of-the-Art self sufficient, independent and autonomous Quality Control Department, fully equipped with latest analytical instruments & Machinery guided by independent Quality Assurance Department.
Separate PLC based High Performance Liquid Chromatography testing provisions and In-house Microbiology Department to carry out various Microbiological tests.
Dedicated areas designated for In-house testing facilities, Quality Assurance, Control Sample Storage
Exclusive cell for conducting Pre-Formulation studies, New Product Development, Stability Studies and Research & Development for Potential Products.
Air Handling Unit with pressure differential system.
Air conditioning and controlled humidity for all the Manufacturing departments to avoid cross contamination.
Reverse Osmosis water system.
Unidirectional flow of materials.
Flame proof fittings in coating system, Manufacturing etc.
Environment friendly technologies (Effluent Treatment Plant) and practices that are environmentally safe and help to enhance human life.