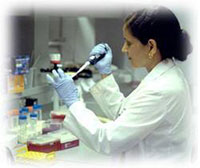 We assure Cent Percent Quality of the Products manufactured by us and follow the above said motto.


The emphasis for the quality comes from the management and is implemented by the complete production team. Quality control starts with the rigorous inspection and testing of all the raw materials for all the parameters. During process, quality of all intermediates is tested at every step of the process, apart from the stringent testing of the final product as per the in-house specifications.



We have a well-equipped quality control & quality assurance department that are dedicated in maintaining quality policy. This is achieved through our Quality Assurance program developed to ensure continuous validation and improvement in all areas of the manufacturing process.



Quality management system at LESANTO is Intricately Planned, Documented, Executed and Controlled, with a robust support from the important 4M's, Manpower, Machinery, Material & Management. This ensures consistent Quality, Safety, Efficacy and Stability of every single product that is manufactured by the company.



Complementing the QMS in its goals are the various departments Of Quality Control, Quality Assurance, R&D, Production, Inventory, Engineering, Stores, Marketing, Accounts and administration. The depth of experience and capabilities of our technical professionals and the advanced scientific analytical instruments assures that a world class quality of final products reaches our customers.



We follow the current Good Laboratory Practices (cGLP), in total quality management. Achieving this standard is a step towards the systematic and documented work culture that we follow.
Human resource is one of the biggest assets in any industry. Keeping this in mind we give foremost importance to the safety of our employees & work processes.
The legal and regulatory requirements in terms of pollution such as Air, Water, Noise and Soil etc are complied with in all respects. Environment aspects related to various activities undertaken at our plant are regularly monitored to study its impacts.
We provide constant training at different levels to our employees on Safety, Health and Environment, so as to create ability to handle and dispose all types of waste and products safely and without making unacceptable risks to human health or the Environment.
The Organization is committed to continually improve the effectiveness of Quality Management Systems. The company manufactures products of high quality, which are safe for human consumption and have consistent properties of dosage form
We adopt Reverse Engineering Processes for Cost-Effectiveness and Quality of Our Products.