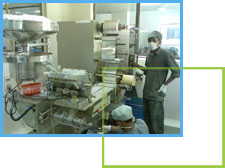 OUR STRENGTHS




Professionally managed organization built on the strong pillars of Ethical Business Practices, Innovation, Integrity & Excellence in delivery of High-end Quality products.



An efficient team of highly qualified experienced professionals from the industry in Quality Assurance, Quality Control, Production and R & D departments, giving competitive and intellectual leverage to the organization.



Management with futuristic outlook to support rich experience and knowledge of the work force.



Complete and wide range of product List in Tablets, Capsules, Liquid Orals & Non-sterile ointments.



Approval from International Health & Regulatory Agencies of Ukraine and Ghana.


Manufacturing of high quality products which are internationally accepted as is evident from regular export to various countries like Afghanistan, Africa, Australia, Ghana, Kazakhstan, Mauritius, Myanmar, New Zealand, Nigeria, Russia, Sri Lanka, Turkey, Ukraine, Vietnam, and West Africa.



Developing newer formulations for foreign clients as per their international health agency guidelines.



Professionally trained team to give Regulatory and Documentation support.



Professionally qualified team to conduct Stability and Validation Studies and to provide Stability, Testing and Validation Data for specific formulations as per specific requirement


An in-house technical support team, well equipped with the necessary tools is always available to promptly attend to any kind of Process holdups.

For those products manufactured on contract mfg. & Loan License, all the Scientific & Technical assistance is provided, whenever required.


SALIENT FEATURES

Code of ethics in production and quality.



Appropriate utilization of 3 M's.



Training to the personnel as per new guidelines.



Electrification is done for easy energy audit.



Illumination level 300 lux in all manufacturing areas.



Clean room fixture provided in all manufacturing areas.



Separate flame proof granulation department for non aqueous binding, humidity control for hygroscopic items, thermolabile items and very high valued drugs etc.



Water proofing of entire terrace slab.



HPLC, UV-Spectrophotometer all under one roof.



H.T. transformers (400 KVA), which can take the entire load.



Separate wastage disposal (Effluent Treatment Plant).



Pre-Construction Anti-Termite Pest Control treatment for entire factory building.



R.O. water system with re-circulation facility.



factory designed and constructed as per vastu shastra.



Central record room.



Stability sample room & Control sample room.